She Was Pretty
Profile:
Genre: Romance, Comedy
Episodes: 16
Broadcast Network: MBC
Air Time: Wednesday/Thursday
Broadcast Period: Sept. 16, 2015 - Nov. 5, 3015
Main Cast:
Hwang Jung Eum as Kim Hye Jin
Park Seo Joon as Ji Sung Joon
Go Joon Hee as Min Ha Ri
Choi Shi Won as Kim Shin Hyuk
Synopsis:
Kim Hye Jin was a very pretty girl from a rich family. After her family's publishing company went bankrupt, she experienced hardships and then lost her beauty too. Ji Sung Joon was an unattractive boy with low self-esteem, but grew up to be a handsome and successful editor. As fate would have it, both of them end up working at the same magazine publishing company.
Thoughts:
Unfortunately I have recently started back up at University and that means that I have tried to cut back on my drama watching. So when I first read the synopsis to this drama there was no way I was going to watch this drama. I just didn't like that it was about a girl who used to be pretty but now she is ugly so no one cares about her. I knew that that wasn't going to be the whole drama but the way I read it was very off putting. But like so many other dramas I read some good reviews and comments that I ultimately decided to give it a chance. Which overall I am happy that I did, the first two episodes were a pleasant surprised and I am hooked enough to continue watching.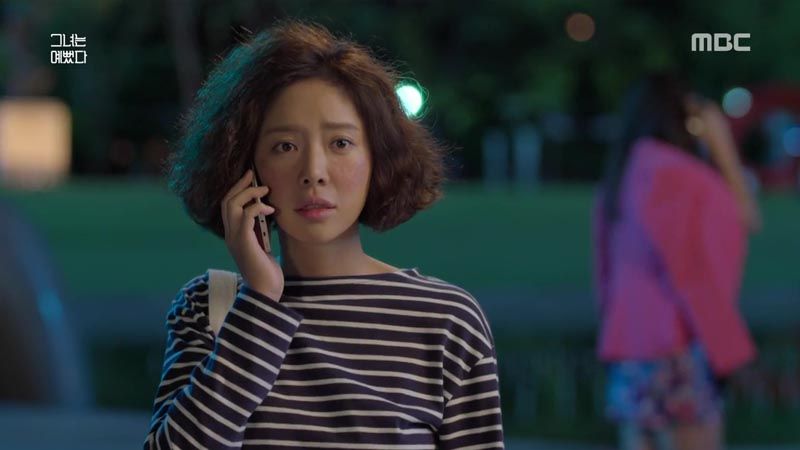 I think I was really expecting the drama to be shallow and only focus on looks, which to a point that is what it is about. But there is a lot of heart in the first two episodes that took me completely off guard. I actually teared up in the first episode, which was shocking. I think this drama can connect to so many people who have every felt ugly, which I have many times throughout my life. Every person goes through a period of time where they feel like our looks are what define us and if we don't look like the girl on the magazine then somehow we aren't worth it. It's just an unfortunate phase that plagues society. We see this struggle in Hwang Jung Eum's character. When she first realizes that her first love turned into this extremely good looking guy who was obviously successful her insecurities came to the forefront and she panicked. I think that is what I look forward to most about this drama is seeing Kim Hye Jin overcome herself and truly learn to lover who she is inside and outside.
Another aspect of this drama that was a great surprise was the relationship between our two lead female characters. They are BEST FRIENDS!!!!!!!!!!!! This drama isn't pitting two women against each other to get the man. They are two women who are there to support each other. At least that is what it seemed like after the first two episodes. It's basically the best thing in the world to see this in dramaland. I love this and it makes me extremely happy, their relationship was my favorite part of the first week and is one of the main reasons I really want to continue watching this drama.
Overall it was a solid opening week for She Was Pretty. This drama is pretty funny and the acting is all pretty solid. It also has a lot of heart and can make you go from tear to laughter. I am really looking forward to seeing Kim Hye Jin's character growth and seeing our two female leads grow together. I really should wait until the dame is over to just binge watch over a holiday but I am so intrigued that I just have to follow it starting week 1.