Six Flying Dragons
Profile:
Genre: Historical, Politics
Episodes: 50
Broadcast Network: SBS
Air Time: Monday/Tuesday
Broadcast Period: Oct. 5, 2015 - March 22, 2015
Main Cast:
Yoo Ah In as Lee Bang Won (King TaeJong)
- Nam Da Reum as Young Lee Bang Won
Kim Myung Min as Jung Do Jeon
Shin Se Kyung as Boon Yi
- Lee Re as Young Boon Yi
Chun Ho Jin as Lee Seong Gye (King TaeJo)
Byun You Han as Ddang Sae
- Yoon Chan Young as Young Ddang Sae
Yoon Kyun Sang as Moo Hyul
- Baek Seung Hwan as Young Moo Hyul
Synopsis:
In the formation f every great nation, many battles are fought by those who have clashing ideologies and political views. These six dragons, Prince Lee Bang Won, Jeong Do Jeon, Lee Seong Gye, Boon Yi, Ddang Sae, and Moo Hyul, fall on opposite sides of a power struggle between those who want a country ruled by ministers and those who want absolute power. Do Jeon helps his father, Seong Gye, who becomes the first King Tae Jo, establish the Joseon Dynasty, but Bang Won, who later becomes KIng Tae Jong, will become his biggest enemy.
Thoughts:
Okay I am apparently feeling very ambitious right now to take on a historical drama that is 50 episodes long. I already struggle getting through regular 20 episode historical dramas let alone 50. It is a huge time commitment and if I am being completely honest historical dramas are not always the most exciting thing to watch, especially when they get bogged down with politics. I think part of why it is so hard to really get into this genre is because I am not Korean and I don't know the history behind the story. So when this drama was first announced and I saw what a star studded cast this was it really peaked my interest. I thought "could this be something I could really get into?" So in preparation I did some research, and when I say some I mean I spent hours upon hours learning about the formation of the Joseon Dynasty, instead of studying for midterms.... Oops. I didn't want to feel like I was missing something because I didn't know the background of what was going on. And I really do think that helped. I actually found myself enjoying the first two episodes rather than being confused about who all these people actually were and who they were going to become in the future.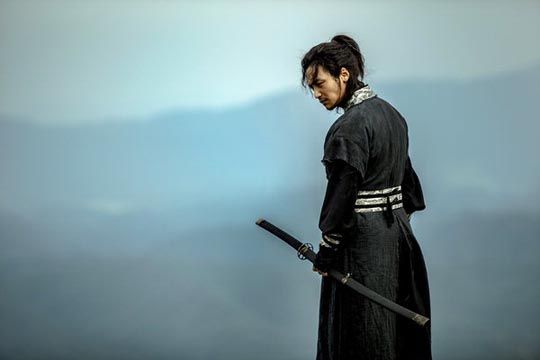 I think it is very difficult to judge a 50 episode drama after the first week, because really these two episodes are used to set up backstory. But I still think it was done pretty well. I was engaged throughout the entire episode and there was enough action mixed with the politics to keep everything interesting. But with so many episodes to go it is really difficult to say whether I liked what I watched or not.
I am definitely going to try to keep with this drama until the bitter end. I am really really going to try but I cannot guarantee that that is actually going to happen. I want to stick it out because I spent so much time learning about this period that I am now wondering how closely they are going to follow the actual history, because Lee Bang Won isn't necessarily a good person who is going to win "best son of the year" anytime soon. So I am really interested what direction they are going to take that character with Yoo Ah In playing him. I really want them to take Yoo Ah In who looks so noble and beautiful and just make him a dark and frightening person who is able to kill his brothers to get to the throne. So I am going to attempt this and if I make it to the end I am going to be extremely proud of myself. And for anyone who is wondering whether they should start this drama I really do recommend looking at the history because it really does help. Some people may think of it as "spoilers" but come on... these are actual people who actually lived and basically the whole Korean nation knows what's going to happen so you won't be the only one who knows the ending.